Singapore Teams Recognised for Innovative Design and Engineering Excellence in First Ever Virtual Shell Eco-marathon Asia Off-track Awards
Jun 16, 2020
Singapore teams beat over 100 regional submissions to win two Shell Eco-marathon awards.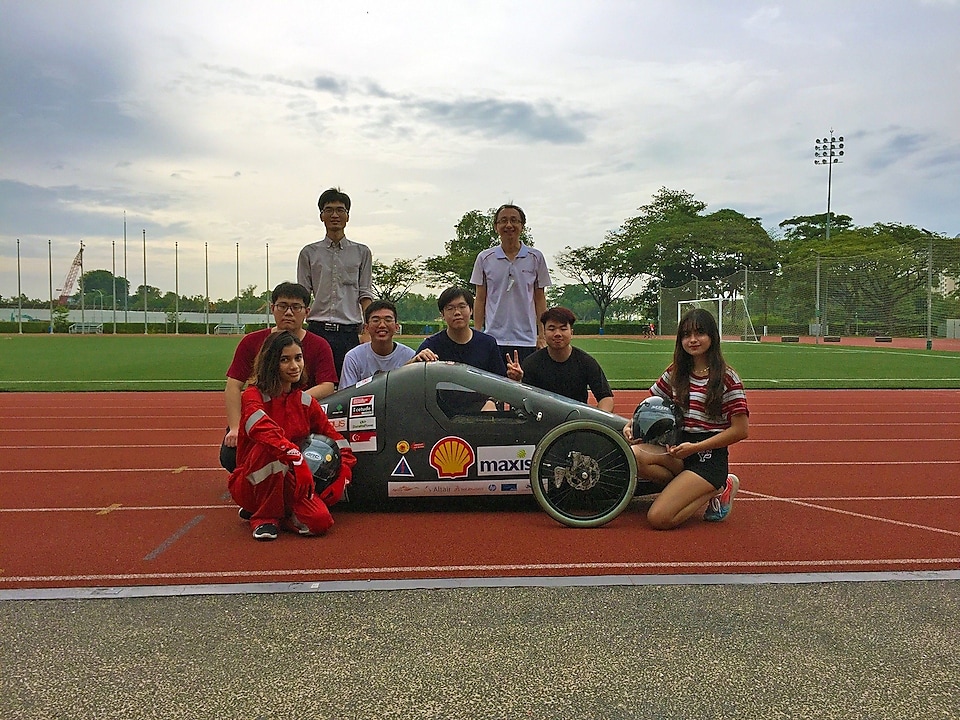 The team of students and lecturers behind TP Eco Flash at Temasek Polytechnic
TP Eco Flash testing their energy-conserving, purge-free hydrogen car at Temasek Polytechnic
The team behind NV11 Nanyang Autonomous Venture
NV11 Nanyang Autonomous Venture and their killer whale-shaped eco-car
For Chng Tze Chen of Temasek Polytechnic (TP), cars have always been a fascination from a young age, while creating practical solutions to improve current engineering mechanisms interests Peter Chong of Nanyang Technological University (NTU). When the Shell Eco-marathon presented a chance to work on an actual car, they immediately jumped at the opportunity to represent their respective schools.
Although much of the world grinded to a halt in early 2020, the spirit of student innovation and team work continued to shine brightly in the TP and NTU teams, eventually leading them to clinch the Technical Innovation Award and Vehicle Design Award (Urban Concept) respectively at this year's Shell Eco-marathon Asia Off-Track Awards.
Shell Eco-marathon is one of the world's leading energy-efficiency competition programmes for science, technology, engineering and maths (STEM) students to design, build and drive ultra-energy-efficient cars. Held virtually for the first time due to the pandemic, the Asian edition of the Off-track Awards continued its tradition of recognising excellence in communications, circular economy, technical innovation, vehicle design and safety.
This year's awards attracted more than 100 entries by 50 teams from 16 countries. The winners were announced in a virtual ceremony live on Shell Eco-marathon's Instagram and Twitter on June 3, 2020. Scuderia Ferrari Formula 1 Driver Charles Leclerc joined the ceremony as a special guest.
For the technical inventiveness of their vehicle design that recycles hydrogen waste to generate energy, TP Eco Flash impressed judges and bested competitors to receive the Technical Innovation Award for the first time.
While such systems exist in the market, hydrogen recycling is not widely adopted as the process consumes a considerable amount of power. Additionally, decompressors needed for such systems are often bulky and therefore not traditionally used in race cars or lightweight vehicles.
TP Eco Flash gave themselves a challenge to address both areas. And the team succeeded, creating an innovation that requires less energy for recycling hydrogen while being compact enough to fit into an eco-car. Its purge-free capability also makes it safer than conventional hydrogen fuel cells.
A highly flammable gas, hydrogen could cause an explosion if accumulated in an enclosed space. To ensure safety, TP Eco Flash incorporated a fail-safe mechanism that would shut down the vehicle if hydrogen built up as a result of not being recycled.
"Taking part in Shell Eco-marathon has been a very fulfilling journey for our team and our advisors, and we are glad that we were able to see our hydrogen-powered vehicle in action before the Circuit Breaker in Singapore happened. Being able to be part of this year's regional competition allowed us to test our ideas and come up with real-world solutions using clean energy. Our ability to effectively integrate knowledge from multiple disciplines – clean energy, electronics and mechatronics – to secure our win is certainly another plus," said Tze Chen, who is the student manager of TP Eco-Flash.
Another category that saw stiff competition was the Vehicle Design Award (Urban Concept). NV11 Nanyang Autonomous Venture from NTU made the strongest impression on panellists with the intricate details, overall packaging, quality interior and good ergonomics of their vehicle.
Inspired by the characteristic fusiform shape of the killer whale, or orca, which contributes to it being one of the fastest-swimming marine mammals, the electric eco-car boasts a streamline, aerodynamic design, which reduces the drag from air moving past.
Modifying a design inherited from the NTU team that participated in Shell Eco-marathon 2019, the team of final-year undergraduates enhanced the steering, drivetrain, electrical and braking systems. The combination of these improvements increased energy efficiency by 30 to 40 per cent, based on lab tests.
"I remember the day when we first took over the car from our seniors and each of us did a test drive to understand the areas for improvement. That experience got us really excited – a feeling that kept us going till the end, even when the COVID-19 pandemic meant that we could no longer compete on-track. Nonetheless, Shell Eco-marathon has provided a wonderful hands-on learning platform that allowed us to develop practical solutions to a present-day issue. We look forward to passing our knowledge on to subsequent NTU teams so that they can surpass and better our design," said Peter Chong, Lead Driver, of NV11 Nanyang Autonomous Venture.
This year also marks the 35th anniversary of Shell Eco-marathon. Over the years, Shell Eco-marathon has seen thousands of high school and university students from across the world build ultra-energy-efficient vehicles, in a variety of designs, using a spectrum of energy types. Every year brings new stories of human endeavour and technical excellence, as teams push the boundaries of what's possible. In these extraordinary times, Shell Eco-marathon continued to find ways to keep the spirit of innovation alive among its student participants.
Downloads:
Download photos of Singapore's SEMA teams
Enquiries:
Hilary Espinosa
Ninemer Communications P L
hilaryespinosa@ninemer.com
Charlene Ho
Ninemer Communications P L
charleneho@ninemer.com
Ca-Mie De Souza
General Manager, External Relations
Ca-Mie.DeSouza@shell.com
Cautionary Note
The companies in which Royal Dutch Shell plc directly and indirectly owns investments are separate legal entities. In this press release "Shell", "Shell Group" and "Royal Dutch Shell" are sometimes used for convenience where references are made to Royal Dutch Shell plc and its subsidiaries in general. Likewise, the words "we", "us" and "our" are also used to refer to Royal Dutch Shell plc and its subsidiaries in general or to those who work for them. These terms are also used where no useful purpose is served by identifying the particular entity or entities. ''Subsidiaries'', "Shell subsidiaries" and "Shell companies" as used in this press release refer to entities over which Royal Dutch Shell plc either directly or indirectly has control. Entities and unincorporated arrangements over which Shell has joint control are generally referred to as "joint ventures" and "joint operations", respectively. Entities over which Shell has significant influence but neither control nor joint control are referred to as "associates". The term "Shell interest" is used for convenience to indicate the direct and/or indirect ownership interest held by Shell in an entity or unincorporated joint arrangement, after exclusion of all third-party interest.
This press release contains forward-looking statements (within the meaning of the U.S. Private Securities Litigation Reform Act of 1995) concerning the financial condition, results of operations and businesses of Royal Dutch Shell. All statements other than statements of historical fact are, or may be deemed to be, forward-looking statements. Forward-looking statements are statements of future expectations that are based on management's current expectations and assumptions and involve known and unknown risks and uncertainties that could cause actual results, performance or events to differ materially from those expressed or implied in these statements. Forward-looking statements include, among other things, statements concerning the potential exposure of Royal Dutch Shell to market risks and statements expressing management's expectations, beliefs, estimates, forecasts, projections and assumptions. These forward-looking statements are identified by their use of terms and phrases such as "aim", "ambition", ''anticipate'', ''believe'', ''could'', ''estimate'', ''expect'', ''goals'', ''intend'', ''may'', ''objectives'', ''outlook'', ''plan'', ''probably'', ''project'', ''risks'', "schedule", ''seek'', ''should'', ''target'', ''will'' and similar terms and phrases. There are a number of factors that could affect the future operations of Royal Dutch Shell and could cause those results to differ materially from those expressed in the forward-looking statements included in this press release, including (without limitation): (a) price fluctuations in crude oil and natural gas; (b) changes in demand for Shell's products; (c) currency fluctuations; (d) drilling and production results; (e) reserves estimates; (f) loss of market share and industry competition; (g) environmental and physical risks; (h) risks associated with the identification of suitable potential acquisition properties and targets, and successful negotiation and completion of such transactions; (i) the risk of doing business in developing countries and countries subject to international sanctions; (j) legislative, fiscal and regulatory developments including regulatory measures addressing climate change; (k) economic and financial market conditions in various countries and regions; (l) political risks, including the risks of expropriation and renegotiation of the terms of contracts with governmental entities, delays or advancements in the approval of projects and delays in the reimbursement for shared costs; (m) risks associated with the impact of pandemics, such as the COVID-19 (coronavirus) outbreak; and (n) changes in trading conditions. No assurance is provided that future dividend payments will match or exceed previous dividend payments. All forward-looking statements contained in this press release are expressly qualified in their entirety by the cautionary statements contained or referred to in this section. Readers should not place undue reliance on forward-looking statements. Additional risk factors that may affect future results are contained in Royal Dutch Shell's Form 20-F for the year ended December 31, 2019 (available at www.shell.com/investor and www.sec.gov). These risk factors also expressly qualify all forward-looking statements contained in this press release and should be considered by the reader. Each forward-looking statement speaks only as of the date of this press release, June 16, 2020. Neither Royal Dutch Shell plc nor any of its subsidiaries undertake any obligation to publicly update or revise any forward-looking statement as a result of new information, future events or other information. In light of these risks, results could differ materially from those stated, implied or inferred from the forward-looking statements contained in this press release.
We may have used certain terms, such as resources, in this press release that the United States Securities and Exchange Commission (SEC) strictly prohibits us from including in our filings with the SEC. Investors are urged to consider closely the disclosure in our Form 20-F, File No 1-32575, available on the SEC website www.sec.gov.