Awards and Recognition
Shell is recognised for its good record in safety, social performance and social investment programmes, and commitment to sustainable development.
Recognition for Corporate and Societal Excellence
In May 2019, Shell Singapore received the AmCham Cares Recognition for Corporate and Societal Excellence for the first time. This annual award is given by the American Chamber of Commerce in Singapore (AmCham) to locally based MNCs and SMEs who are keen and engaged supporters in their local communities. For Shell this includes programmes such as Shell Traffic Games, Shell IdeaRefinery (now known as Shell StartUp Engine), our STEM education programmes and volunteering projects with organisations such as South West Community Development Council (CDC), Lakeside Family Services and NorthLight School.
 
Champion of Good
The National Volunteer & Philanthropy Centre (NVPC) recognised 60 organisations in 2018 as Champions of Good for their exemplary corporate giving, and their commitment to amplifying the impact of giving. One of them is Shell Singapore. Read more about our social investment values in this supplement of The Business Times.
Long-term Partnership Recognition
Shell Singapore was recognised for its long-term partnership with Lakeside Family Services (LFS), an organisation that runs four family service centres and two student care centres in the western and south-western parts of Singapore. Together, we have organised many fun and enriching activities for LFS' beneficiaries. The largest over the past years was Amazing Raise 2017, an inaugural fund-raising event that raised S$80,000 for LFS and capped a full year of giving back, exceeding 180 hours of community programmes.
A Hat Trick for Community Spirit Awards
Shell Singapore received a Merit for Community Partnership at the People's Association Community Spirit Awards 2018, marking this the third consecutive year we were recognised for our commitment and achievements in community service. Shell's values include being a good citizen and neighbour to those who live in the countries and neighbourhoods where we work. Having been in Singapore since 1891, we have strived to run our Singapore sites and facilities in environmentally and socially responsible ways, while also ensuring we give back to our community.
Randstad Employer Brand Sector Awards
Shell Singapore was named the most attractive employer within the engineering, construction, oil and gas industries in the 2018 Randstad Employer Brand Sector Awards. The winners of the awards were selected from the 75 largest commercial companies in Singapore (based on workforce size). Randstad's employer brand research explores workers' perceptions of employer brands and provides an understanding of what employees and job seekers are looking for.
Caring Corporate and Community Spirit Awards
Shell Singapore was conferred the South West Caring Corporate Awards 2017 by the Southwest Community Development Council (SWCDC) for its contribution and efforts in helping build a more inclusive, socially-mobile community. At the same event, Shell Singapore also received the People's Association Community Spirit Award 2017, for the second consecutive year. The award is in recognition of Shell's exceptional achievements in community service and contributions to the local community.
Energy Efficiency National Partnership Awards 2017
Shell Jurong Island (SJI) won the 2017 Energy Efficiency National Partnership (EENP) Award in the "Best Practices" category. This award acknowledged the site's energy-efficiency practices, which has resulted in a 15 per cent reduction in steam consumption. This is Shell's second and Shell Jurong Island's first win since the awards started in 2011. Organised by the National Environment Agency, the Energy Market Authority and the Economic Development Board, the award aims to foster a culture of sustained energy efficiency improvement in the industry, especially among the major energy-consuming industries.
SkillsFuture Employer Award
Shell Singapore has been conferred the inaugural SkillsFuture Employer Award, one of 14 recipients this year. The award is a tripartite initiative aimed at recognizing employers who have made significant contribution to their employees' skills development and mastery. In 2016, Shell Singapore pioneered the SkillsFuture Earn and Learn Programme for the energy and chemicals sector to enable polytechnic graduates to learn as they work in the industry. In 2017, the company launched a Plant for Authentic Learning facility with the Institute of Technical Education to provide a simulated environment for training process mechanics and engineers.
Shell is also helping young people understand our energy future.
Honorary Partner in Progress Award
The Singapore government conferred on Royal Dutch Shell the Honorary Partner in Progress (HPIP) award. The award, administered by the Singapore Economic Development Board (EDB), recognises Shell's longstanding contribution to Singapore's economic growth and continued interest in social and community development.
IChem E Singapore awards 2014
Shell tops its performance, receiving accolades in Process Safety, Education and Training and was named the first Gold Corporate partner in Singapore.
Shell Eastern Petroleum (Pte) Ltd was the major winner, scoring a hat-trick of awards, at the Institution of Chemical Engineers' (IChemE) Singapore Awards and Annual Dinner 2014.
Pulau Bukom Manufacturing Site took the top prize in the Process Safety category for its work in the assurance space with a dedicated Process Safety Field Observation (PSFO) programme. This is the second year running that Bukom has won in this category. Last year, Shell won for the Pulau Bukom Manufacturing Site's "Pride in Production" initiative, an ongoing journey to achieve process safety through operational discipline.
Shell was also recognised for its skills and professional development programmes, receiving the Education and Training Award for its talent management scheme, the Shell Graduate Programme. On top of this, Shell became IChemE's first Gold Corporate partner in Singapore. This is the institution's highest professional honour for companies who demonstrate a sustained commitment to developing talents for the process industries.
The IChemE Singapore Awards is part of a global award series to celebrate excellence, innovation and achievement in industries such as oil, gas, water, food and the pharmaceutical sectors.
About the IChemE Singapore Awards 2014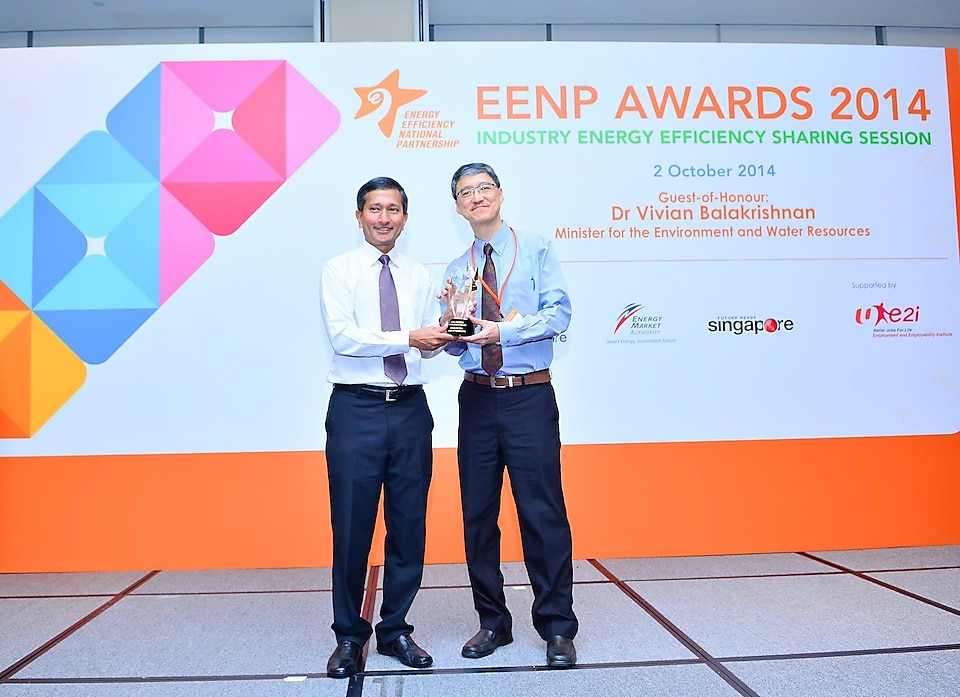 Energy Efficiency National Partnership Awards 2014
Shell's Pulau Bukom Manufacturing Site won the 2014 Energy Efficiency National Partnership or EENP Awards in the Excellence in the Energy Management category. The award was presented on 2 October 2014 by Dr. Vivian Balakrishnan, Minister for the Environment and Water Resources, during a one-day Industry Energy Efficiency Sharing Session.
This is Shell's first win since the awards started in 2011. It is a testament to the rigorous energy management journey that Bukom has embarked upon.
The EENP Awards is organised by the National Environment Agency, the Energy Market Authority and the Economic Development Board. It aims to foster a culture of sustained energy efficiency improvement in the industry, especially among the major energy-consuming industries.
For more on the EENP Awards, please visit the Energy Efficiency National Partnership website
Singapore Sustainability Awards 2012
Shell Companies in Singapore won the Achievement of Excellence award in the Sustainable Business Awards (Large Enterprise category) at the 2012 Singapore Sustainability Awards, the only energy company to be recognised.
An initiative by the Singapore Business Federation, the Singapore Sustainability Awards showcase the best of Singapore companies which have addressed holistically and successfully the business, environmental and social aspects of sustainability.
Shell is honoured to be recognised for our sustainable development efforts. Sustainable development is integral in the way we do business – from balancing short- and long-term interests to integrating economic, environmental and social considerations into the business decisions we make.
As a company, Shell aims to meet the world's growing energy needs responsibly by developing innovative products and technology to help build a sustainable energy future for all. This Award serves to reaffirm our belief that by striving for the best for our people, our customers and for the community, we can work together for a better future.
Singapore Compact CSR Awards 2012
Shell Companies in Singapore has won Special Mention (Best Community Developer Award) at the Singapore Compact CSR Awards 2012.
An initiative by Global Compact Network Singapore (formerly known as Singapore Compact for Corporate Social Responsibility), the CSR Awards recognise organisations which have responsible business practice across the areas of environment, community and their people, and demonstrate working in partnership with stakeholders to achieve long-term sustainability of the business. The Special Mention (Best Community Developer Award) recognises Shell for its consistent approach to improving the community's well-being and quality of life.
Shell aims to have a positive effect in the communities where we operate. We do this by working closely with our neighbours to create opportunities, and develop community programmes.
Through our social investment programmes, Shell Singapore works with the community and stakeholders on projects that address issues directly linked to our business. Our social investment framework consists of four main areas: Environment, Youth Enterprise, Education, Employee Participation and Road Safety.
Visit the Global Compact Network Singapore website
Pioneer Certificate No.1
Shell has been in Singapore since 1891 and set up the country's first oil refinery in 1961. For this milestone, it was awarded "Pioneer Certificate No.1" by the Singapore government. Today, the Pulau Bukom Refinery is the largest Shell refinery in the world, in terms of crude distillation capacity.
More in About Us
Learn about our business and people, and how we grew from a small shop in London nearly 200 years ago.
The Lecture Series is a dedicated series of thought leadership seminars held to celebrate Shell's 125 years in Singapore.
You might also like
Our vision is to continue playing a long-term, meaningful role in the community in line with our ambition to be a net-zero emissions energy company by 2050.
The Shell brand promotes our values and the quality of our products and services all over the world.