Shell completes storage expansion at Singapore refinery
Jun 06, 2019
This investment enhances the competitiveness of an important refinery and positions Shell to meet growing demand for high-quality oil products in Asia Pacific and beyond.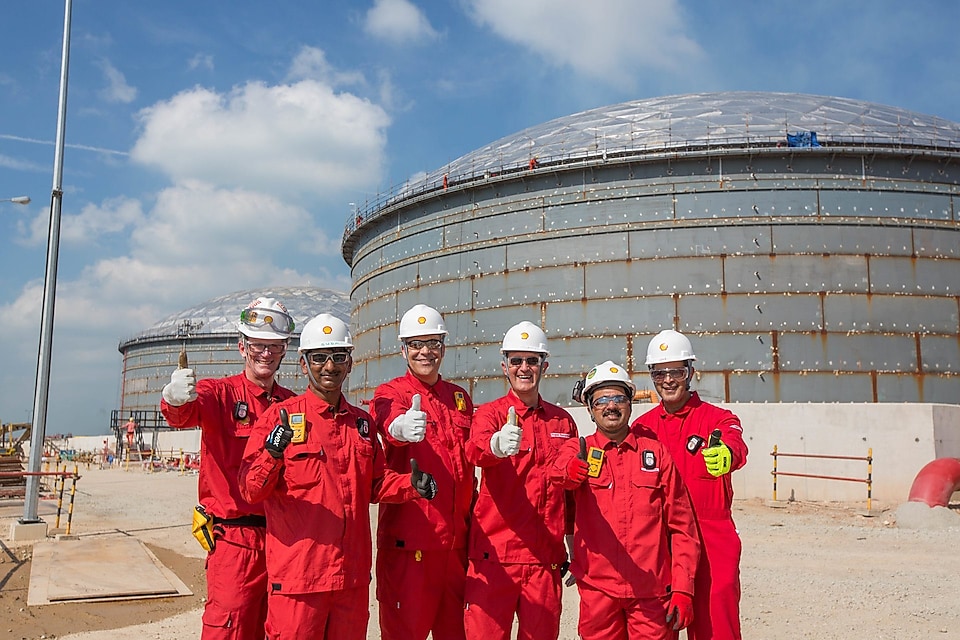 Shell has increased storage capacity at its Bukom refinery in Singapore by building two large crude oil tanks that increase the site's storage capacity by nearly 1.3 million barrels. The project is part of Shell's ongoing effort to improve competitiveness by investing in storage and logistics at its core refineries.
Increased storage capacity at Bukom gives Shell greater flexibility to optimise its oil trading activities, helping us to provide products to our customers more efficiently and profitably.
"This project positions Shell to capture stronger margins and better manage market volatility over the coming years," said Robin Mooldijk, Executive Vice President for Manufacturing at Shell. "These new facilities enable us to buy more oil when market conditions are attractive."
The new storage tanks were built using innovative automated technology, which helped the team safely accelerate project delivery and reduce costs.
Shell built the storage tanks using an automated welding technology, which helped reduce welding time by 60% and lowered costs. A special aluminum alloy used in the tank roofs provides better protection against severe weather, such as lightning, and will help prevent common maintenance issues like rust and corrosion. Shell also used a new method to lift, move and install heavy materials when building the tanks, which helped keep employees safe during construction by reducing the need to work at heights and to carry out heavy lifting.
At its peak, approximately 500 people worked more than 2.8 million hours on the project. When laying the foundation, about 1,200 trucks filled with concrete were transported to the construction site on ferries. Shell also built a new seawall and modified nearby drainage systems to help protect the environment.
Singapore is Shell's largest petrochemical production and export centre in the Asia-Pacific region.
Demand for some oil products, for example diesel, jet fuel and bitumen, in the region and around the world is expected to increase over the next two decades as populations continue to grow and more people achieve a higher standard of living.
Shell is investing in storage and logistics to further enhance the competitive edge of its large, complex and integrated sites in Singapore, Rotterdam and the US Gulf Coast.
Notes to Editors
The Pulau Bukom Manufacturing Site is an integrated refinery and chemicals site in Singapore. The facility can process up to 500,000 barrels of oil per day. Bukom supplies products to various Shell businesses in Singapore, including Retail, Commercial and Chemicals.
Shell operates and has interests in 18 refineries, capable of processing nearly 2.8 million barrels of oil a day into high-quality fuels, specialty products and petrochemicals that help keep people and economies moving.
The flexibility, scale and geographic spread of Shell's refining portfolio enables its Trading and Supply business to efficiently supply both Shell's own marketing businesses and external customers with high-quality oil products.
Shell recently installed new storage, blending and logistics infrastructure at its Deer Park refinery in Texas, Norco and Convent refineries in Louisiana, and Pernis refinery in the Netherlands. Shell also added storage capacity at its Rheinland refinery in Germany and Tabangao refinery in the Philippines.
Enquiries:
Ca-Mie De Souza
General Manager, External Relations, Singapore
Ca-Mie.DeSouza@shell.com
Shell Asia-Pacific Media Relations
Media-AP@shell.com
Cautionary Note
The companies in which Royal Dutch Shell plc directly and indirectly owns investments are separate legal entities. In this announcement "Shell", "Shell Group" and "Royal Dutch Shell" are sometimes used for convenience where references are made to Royal Dutch Shell plc and its subsidiaries in general. Likewise, the words "we", "us" and "our" are also used to refer to Royal Dutch Shell plc and its subsidiaries in general or to those who work for them. These terms are also used where no useful purpose is served by identifying the particular entity or entities. ''Subsidiaries'', "Shell subsidiaries" and "Shell companies" as used in this announcement refer to entities over which Royal Dutch Shell plc either directly or indirectly has control. Entities and unincorporated arrangements over which Shell has joint control are generally referred to as "joint ventures" and "joint operations", respectively.  Entities over which Shell has significant influence but neither control nor joint control are referred to as "associates". The term "Shell interest" is used for convenience to indicate the direct and/or indirect ownership interest held by Shell in an entity or unincorporated joint arrangement, after exclusion of all third-party interest. This announcement contains forward-looking statements (within the meaning of the U.S. Private Securities Litigation Reform Act of 1995) concerning the financial condition, results of operations and businesses of Royal Dutch Shell. All statements other than statements of historical fact are, or may be deemed to be, forward-looking statements. Forward-looking statements are statements of future expectations that are based on management's current expectations and assumptions and involve known and unknown risks and uncertainties that could cause actual results, performance or events to differ materially from those expressed or implied in these statements. Forward-looking statements include, among other things, statements concerning the potential exposure of Royal Dutch Shell to market risks and statements expressing management's expectations, beliefs, estimates, forecasts, projections and assumptions. These forward-looking statements are identified by their use of terms and phrases such as "aim", "ambition", ''anticipate'', ''believe'', ''could'', ''estimate'', ''expect'', ''goals'', ''intend'', ''may'', ''objectives'', ''outlook'', ''plan'', ''probably'', ''project'', ''risks'', "schedule", ''seek'', ''should'', ''target'', ''will'' and similar terms and phrases. There are a number of factors that could affect the future operations of Royal Dutch Shell and could cause those results to differ materially from those expressed in the forward-looking statements included in this announcement, including (without limitation): (a) price fluctuations in crude oil and natural gas; (b) changes in demand for Shell's products; (c) currency fluctuations; (d) drilling and production results; (e) reserves estimates; (f) loss of market share and industry competition; (g) environmental and physical risks; (h) risks associated with the identification of suitable potential acquisition properties and targets, and successful negotiation and completion of such transactions; (i) the risk of doing business in developing countries and countries subject to international sanctions; (j) legislative, fiscal and regulatory developments including regulatory measures addressing climate change; (k) economic and financial market conditions in various countries and regions; (l) political risks, including the risks of expropriation and renegotiation of the terms of contracts with governmental entities, delays or advancements in the approval of projects and delays in the reimbursement for shared costs; and (m) changes in trading conditions. No assurance is provided that future dividend payments will match or exceed previous dividend payments. All forward-looking statements contained in this announcement are expressly qualified in their entirety by the cautionary statements contained or referred to in this section. Readers should not place undue reliance on forward-looking statements. Additional risk factors that may affect future results are contained in Royal Dutch Shell's Form 20-F for the year ended December 31, 2018 (available at www.shell.com/investor and www.sec.gov). These risk factors also expressly qualify all forward-looking statements contained in this announcement and should be considered by the reader.  Each forward-looking statement speaks only as of the date of this announcement, June 6, 2019. Neither Royal Dutch Shell plc nor any of its subsidiaries undertake any obligation to publicly update or revise any forward-looking statement as a result of new information, future events or other information. In light of these risks, results could differ materially from those stated, implied or inferred from the forward-looking statements contained in this announcement. We may have used certain terms, such as resources, in this announcement that the United States Securities and Exchange Commission (SEC) strictly prohibits us from including in our filings with the SEC.  U.S. investors are urged to consider closely the disclosure in our Form 20-F, File No 1-32575, available on the SEC website www.sec.gov.