Bright ideas and student innovation feature at opening ceremony for Make the Future Singapore
Mar 17, 2017
Official launch of the festival also marks the start of Shell Eco-marathon Asia, a student design-and-build competition showcasing the region's most energy-efficient vehicles.
The first-ever Make the Future Singapore, a festival of ideas and innovation for Asia, was officially launched today at the Changi Exhibition Centre, Singapore. Celebrating the best of energy and mobility, the ceremony also saw student teams from Asia Pacific and the Middle East showcase their self-built vehicles at the flag-off ceremony of the eighth edition of Shell Eco-marathon Asia. Present at the start line to welcome teams representing each of the 20 countries participating in the competition were Singapore Deputy Prime Minister Teo Chee Hean, Downstream Director and Executive Committee member of Royal Dutch Shell John Abbott, as well as Shell Companies in Singapore Chairman Goh Swee Chen.
"In a fast-changing world, innovation and collaboration are more important than ever," said John Abbott, Downstream Director for Royal Dutch Shell. "Focused on young entrepreneurs and bright energy ideas, Make the Future Singapore aims to inspire individuals, communities, governments and businesses in the region to come together to find solutions for a lower-carbon future. Through the myriad of activities, Shell wants to build fruitful partnerships and help turn ideas into reality. I have no doubt that the festival will inspire a whole new generation. We are inviting everyone to get involved, feel inspired and help make the future."
Shell's Make the Future Festivals of ideas and innovation are a global initiative with events in Asia, America and Europe. The Asia event has the widest geographical reach with 20 countries participating, accounting for more than 60% of the world's population.
An annual competition that challenges teams to design, build and drive the most energy-efficient cars, the flag-off also marks the first time Shell Eco-marathon Asia is held in Singapore. 123 student teams from 20 countries will be competing in either of two categories of the competition: Prototype – futuristic and highly aerodynamic vehicles – or UrbanConcept – highly economical vehicles that resemble today's cars. Students will compete in three different categories based on their selected energy source: Internal Combustion Engine (ICE): Gasoline, diesel, ethanol (biofuel), Gas to Liquid (GTL) fuel made from natural gas, CNG (compressed natural gas); hydrogen fuel cell; and battery electric power. The eighth Asian edition of the student innovation competition welcomes an entrant from New Zealand for the first time in its history.
All vehicles must pass a set of technical tests before they are allowed onto the competition circuit to see how far they can get on the least amount of fuel, and potentially achieve the highest mileage in the competition. As of noon today, over 76 student teams have passed the technical inspection.
This year, the competition takes on an additional element of excitement with the inaugural Drivers' World Championship (DWC) Asia, an exciting race format in which the best teams in the region will compete for their place in the Drivers' World Championship Grand Final in London in on May 28, 2017, competing in an exciting head-to-head race to see who is the most energy-efficient driver.
To drive innovation and creative thinking in the energy and mobility space, Make the Future Singapore also shined the spotlight on young entrepreneurs. Held as part of the opening festivities, the Shell #makethefuture Accelerator was an interactive event designed to help entrepreneurs turn their bright energy ideas into businesses that can expand across Asia.
Through a combination of talks, strategy sessions and brainstorm discussions with experts from government, the media, Singapore's thriving start-up scene, the event provided a platform for the entrepreneurs to share their challenges and get inspiration to expand their thinking. The #makethefuture Accelerator also featured two successful young start-ups from the Asia region – Capture Mobility, an energy solution that harvests air movement created by passing traffic through specially designed turbines from Pakistan; and MotionECO, a Chinese enterprise that transforms waste cooking oil into sustainable biofuels.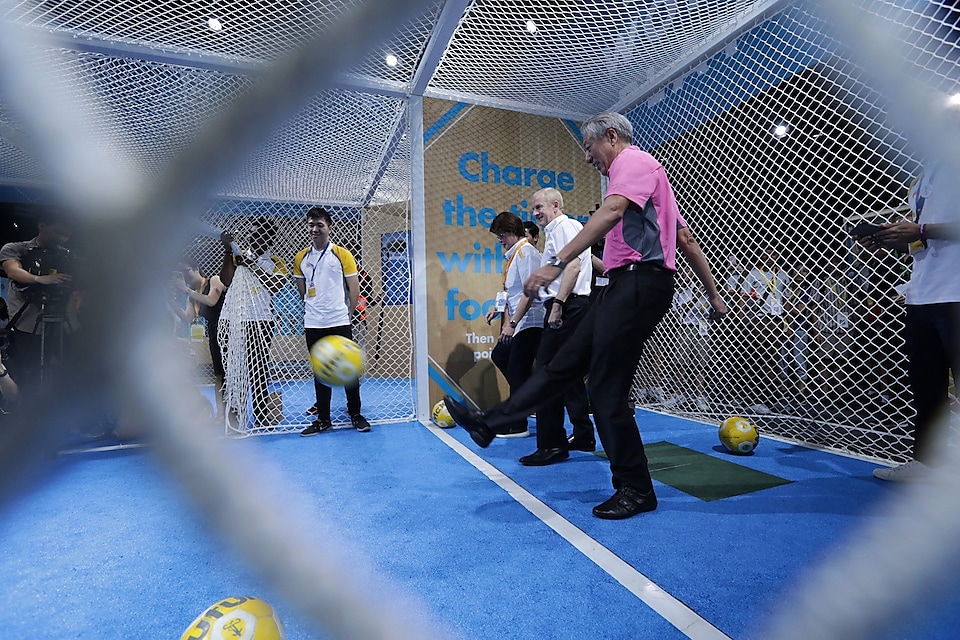 Singapore Deputy Prime Minister Teo Chee Hean and Downstream Director for Royal Dutch Shell John Abbott participating in a football target challenge powered by running on a Pavegen tile. Photo Credit: Singapore Ministry of Communications and Information
Make the Future has five Global Partners:
Southwest Research Institute: Official Global Partner 
Agility: Official Paddock Partner
Hewlett Packard (HP): Official Global Information Technology (IT) Partner 
HPE: Official Global Partner
The Linde Group: Official Global Partner
Make the Future Singapore 2017 is held with support from the Singapore Tourism Board, Ministry of Education, Science Centre Singapore and the Energy Market Authority.
For more information on Make the Future Singapore and to register for free tickets to the event, please visit www.shell.com.sg/makethefuturesg.

Note to editors
To access event images, please visit the following URL: https://www.flickr.com/photos/shell_eco-marathon/.
About Make the Future Singapore
Make the Future Singapore is a festival of ideas and innovations for Asia that supports bright energy ideas and provides a platform for innovation, collaboration and conversation about the global energy challenge. It is a four-day event that will take place at Changi Exhibition Centre in Singapore from March 16-19, 2017. Through virtual reality and hands-on experiential zones, visitors will be able to explore what is happening now and see what the future of energy might look like, from renewable energy to natural gas and low-carbon technologies; learn about bright ideas from around Asia; and participate in interactive zones about the future of energy, mobility and innovation by Shell and other partners. For more information, please visit www.shell.com.sg/makethefuturesg.
About Shell Eco-marathon
Shell Eco-marathon is a unique, global competition that challenges students to push the boundaries of energy efficiency on the road. There are three Shell Eco-marathon competitions held throughout the year in Asia, America and Europe. The competition provides an arena for students to test vehicles they design and build themselves. It aims to inspire young people to become scientists and engineers of the future.
Shell Eco-marathon began in 1939 at a Shell research laboratory in the United States as a friendly wager between scientists to see who could get the most miles per gallon from their vehicle. In 1985 in France, Shell Eco-marathon as we know it today was born. In April 2007, the Shell Eco-marathon Americas event was launched in the United States, and in 2010, the inaugural Shell Eco-marathon Asia was held in Malaysia, up until 2013. The event was held in Manila, Philippines from 2014 to 2016 and moves to Singapore as part of the Make the Future festival for the first time in 2017.
Royal Dutch Shell plc
Royal Dutch Shell plc is incorporated in England and Wales, has its headquarters in The Hague and is listed on the London, Amsterdam, and New York stock exchanges. Shell companies have operations in more than 70 countries and territories with businesses including oil and gas exploration and production; production and marketing of liquefied natural gas and gas to liquids; manufacturing, marketing and shipping of oil products and chemicals and renewable energy projects. For further information, visit www.shell.com.
Cautionary Note
The companies in which Royal Dutch Shell plc directly and indirectly owns investments are separate legal entities. In this press release "Shell", "Shell group" and "Royal Dutch Shell" are sometimes used for convenience where references are made to Royal Dutch Shell plc and its subsidiaries in general. Likewise, the words "we", "us" and "our" are also used to refer to subsidiaries in general or to those who work for them. These expressions are also used where no useful purpose is served by identifying the particular company or companies. ''Subsidiaries'', "Shell subsidiaries" and "Shell companies" as used in this press release refer to companies over which Royal Dutch Shell plc either directly or indirectly has control. Entities and unincorporated arrangements over which Shell has joint control are generally referred to "joint ventures" and "joint operations" respectively. Entities over which Shell has significant influence but neither control nor joint control are referred to as "associates". The term "Shell interest" is used for convenience to indicate the direct and/or indirect ownership interest held by Shell in a venture, partnership or company, after exclusion of all third-party interest.
This press release contains forward-looking statements concerning the financial condition, results of operations and businesses of Royal Dutch Shell. All statements other than statements of historical fact are, or may be deemed to be, forward-looking statements. Forward-looking statements are statements of future expectations that are based on management's current expectations and assumptions and involve known and unknown risks and uncertainties that could cause actual results, performance or events to differ materially from those expressed or implied in these statements. Forward-looking statements include, among other things, statements concerning the potential exposure of Royal Dutch Shell to market risks and statements expressing management's expectations, beliefs, estimates, forecasts, projections and assumptions. These forward-looking statements are identified by their use of terms and phrases such as ''anticipate'', ''believe'', ''could'', ''estimate'', ''expect'', ''goals'', ''intend'', ''may'', ''objectives'', ''outlook'', ''plan'', ''probably'', ''project'', ''risks'', "schedule", ''seek'', ''should'', ''target'', ''will'' and similar terms and phrases. There are a number of factors that could affect the future operations of Royal Dutch Shell and could cause those results to differ materially from those expressed in the forward-looking statements included in this press release, including (without limitation): (a) price fluctuations in crude oil and natural gas; (b) changes in demand for Shell's products; (c) currency fluctuations; (d) drilling and production results; (e) reserves estimates; (f) loss of market share and industry competition; (g) environmental and physical risks; (h) risks associated with the identification of suitable potential acquisition properties and targets, and successful negotiation and completion of such transactions; (i) the risk of doing business in developing countries and countries subject to international sanctions; (j) legislative, fiscal and regulatory developments including regulatory measures addressing climate change; (k) economic and financial market conditions in various countries and regions; (l) political risks, including the risks of expropriation and renegotiation of the terms of contracts with governmental entities, delays or advancements in the approval of projects and delays in the reimbursement for shared costs; and (m) changes in trading conditions. All forward-looking statements contained in this press release are expressly qualified in their entirety by the cautionary statements contained or referred to in this section. Readers should not place undue reliance on forward-looking statements. Additional risk factors that may affect future results are contained in Royal Dutch Shell's 20-F for the year ended December 31, 2015 (available at www.shell.com/investor and www.sec.gov). These risk factors also expressly qualify all forward-looking statements contained in this press release and should be considered by the reader. Each forward-looking statement speaks only as of the date of this press release, 17 March 2017. Neither Royal Dutch Shell plc nor any of its subsidiaries undertake any obligation to publicly update or revise any forward-looking statement as a result of new information, future events or other information. In light of these risks, results could differ materially from those stated, implied or inferred from the forward-looking statements contained in this press release.
We may have used certain terms, such as resources, in this press release that United States Securities and Exchange Commission (SEC) strictly prohibits us from including in our filings with the SEC. U.S. Investors are urged to consider closely the disclosure in our Form 20-F, File No 1-32575, available on the SEC website www.sec.gov.