#ShellSG125: A 'ride' way for charity
It was a ride to remember for cyclists as they pedalled towards a brighter future for youths in Lakeside Family Services
Not many in Singapore would wake up early willingly on a weekend.
That was not the case for around 100 of cyclists consisting of Shell, Friends of Shell, which are Shell's business partners, and Lakeside Family Services (LFS) staff as they geared up for Shell Jurong Island (SJI) + LFS Charity Ride event on Saturday, 19 March.
A collaboration between Shell Jurong Island (SJI) and LFS, the event garnered more than its target of $100,000 for youth programmes at LFS. This amount came from the $125 cyclist registration fees, and donations from SJI and Friends of Shell.
Lakeside Family Services
SJI and LFS have been in partnership since 2011, organising events such as the Shell Mass Jog 2015. The partnership aims to improve social mobility of disadvantaged children and encourage Shell employees to contribute to the community.

"For the last 24 years, Lakeside has been serving the disadvantaged in the Jurong Community, as well as other parts of Singapore and each year, we have served 5000 individuals and their families," said Teo Tee Loon, Executive Director of Lakeside Family Services.
Although LFS receives government grants, LFS still funds some of their programmes themselves. These programmes include educational and psychological services for children, creative arts programmes for children, student care services and youth guidance services.
The executive director added, "A large part of the funds raised today, at least 80%, would go to support these programmes for children and youths."
Cyclists giving a candid shot at the end of the cycling event.
General Manager of Shell Jurong Island Stephen Fowler all smiles at the flag off
Senior leaders and Shell's business partners who were at the event to give their support.
SJI and LFS launched the event also as part of Shell's commitment to achieve 125 volunteering hours for #ShellSG125. Starting from 7am to around 11am, cyclists pedaled from Road Safety Community Park in East Coast to Gardens by the Bay and back, totaling 15km. The cyclists were glad to contribute to the cause. For example, Christine Lim, Senior Legal Counsel and also one of the cyclists from Shell, garnered sponsors from her colleagues for the cycle as donation. Her 10-year-old son even insisted on sponsoring $1 for every 5km she cycled.
SJI Project Services and Integration Manager Ernest Yue, who was one of the organisers behind the event, said, "It took ten months of dedicated planning for today's event. I am glad to see this turnout and support from our colleagues, and I hope we can work towards more of such projects in future."
Shell senior leaders were also present to lend their support. Goh Swee Chen, Chairman of Shell Companies in Singapore flagged off the event alongside and Guest-of-Honour Ang Wei Neng, Member of Parliament (MP), Jurong GRC, while Stephen Fowler, General Manager (GM) of SJI, and Mark Gainsborough, Executive Vice President, Shell Global Commercial, joined in the fun as cyclists.
Volunteer assisting children with the mini Shell Traffic Games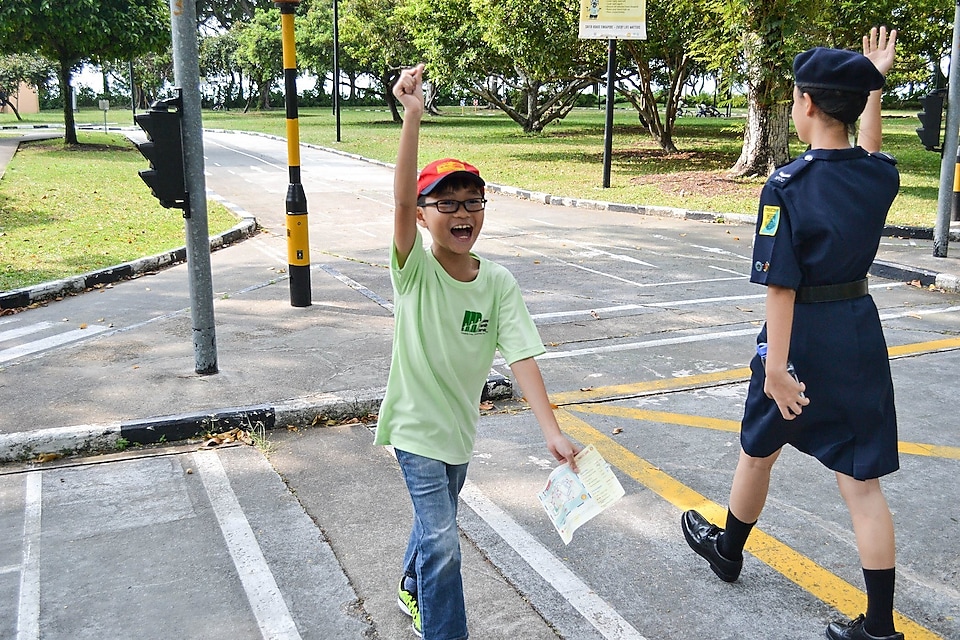 A boy raising his hands while crossing the road at the mini Shell Traffic Games
"Today, to celebrate Shell's contribution to the industrial Jurong precinct, we're cycling for a cause – to make a difference to the children and families that live in our neighbourhoods here."

Mr Ang
Beside the cycle, SJI also hosted a session on Road Safety for a class of children in LFS. Akin to a mini Shell Traffic Game, the children had to travel around the park answering questions while observing road safety rules, with supervision from youths from the National Police Cadet Corps.
Cyclists getting ready and raring to start cycling
More in Shell in the Community
Shell Eco-Marathon challenges students around the world to design, build, test and drive ultra-energy-efficient vehicles.
You may also like
More than five generations of Singapore residents have kept faith with us since 1891. Discover Shell's 125 years in Singapore.
Sustainability at Shell means providing energy in a responsible manner, respecting people, their safety and the environment.
A new crab specimen discovered in Singapore waters was turned into an unusual gift for the Singaporean Prime Minister Lee Hsien Loong.