Who we are
Shell Jurong Island (SJI) manufactures petrochemicals to meet the fast-growing demand for these products in the region.
Occupying more than 60 hectares, Shell's chemical manufacturing assets on Jurong Island manufacture ethylene oxide (which is converted into ethylene glycols and high purity ethylene oxide), ethoxylates, styrene monomer, propylene oxide and polyols. SJI's mission is to ensure safe, reliable and responsive supply of these products to its customers.
Jurong Island is located approximately 5km off the southwest coast of Singapore and is linked to the mainland by the Jurong Island Highway. It is a highly secure island and not accessible to the public. Jurong Island is the centerpiece of Singapore's chemicals industry and is today home to more than 100 leading petroleum, petrochemicals, and specialty chemicals and manufacturing companies from all over the world.
SJI's Role In The Region
Singapore is Shell's largest petrochemical production and export centre in the Asia Pacific region. Shell Jurong Island manufactures chemical intermediates to meet the strong and fast-growing demand for these products in the region and beyond.
What we make
SJI's chemical manufacturing assets produce:
Ethylene oxide (which is converted into ethylene glycols and high purity ethylene oxide) and ethoxylates. These products are used in applications such as polyester fibres, polyester resins and surfactants.
Styrene monomer, the starting material for plastics such as polystyrene, expandable polystyrene and acrylonitrile-butadiene-styrene. The main applications for these products are in the automotive, electrical, appliances and packaging industries.
Propylene oxide, which is used in a wide range of chemical derivatives including polyols, propylene glycols (namely monopropylene glycol and dipropylene glycol), glycol ether solvents and flame retardants.
Polyols, the main derivative of propylene oxide, which are used primarily to produce polyurethane foams, coatings, elastomers, adhesives and sealants.
| Plant | Capacity*, (kt/yr) |
| --- | --- |
| Styrene Monomer | 1040 |
| Propylene Oxide | 490 |
| Polyether Polyols | 400 |
| MPG (USP/industrial) & DPG | 80 (MPG), 10 (DPG) |
| Mono-ethylene Glycols | 1030 |
| High Purity Ethylene Oxide | 210 |
| Alcohol Ethoxylates | 180 |
*based on 8400h/y operation
Products are supplied to customers via pipelines. SJI also has a road car loading facility to transport its products to local customers through road cars. In addition to that, products are shipped through an Oiltanking Odfjell Terminal Singapore (OOTS) jetty to the Asia Pacific region, Africa, Europe and the Americas.
Mono-Ethylene Glycol Plant
In November 2009, the world-scale Mono-ethylene Glycol (MEG) plant on Shell Jurong Island was officially opened. It is one of the largest mono-ethylene glycol plants in the world.
The MEG plant uses award-winning technology developed by Shell, called OMEGA (Only MEG Advantage). It uses a fully catalytic process for the conversion of ethylene into MEG instead of a conventional thermal process and produces more MEG per tonne of ethylene than any other technology in the industry. This process saves shipping and storage costs as it creates virtually none of the other raw materials that come from thermal conversion. It also consumes about one-fifth less steam and generates about 30% less waste water.
In addition, the refinery and petrochemicals plant uses nearly 100% wastewater, treated and recycled by Singapore's national water company. Water is used for cooling and in the reactions to turn raw material into valuable products.
Growth Projects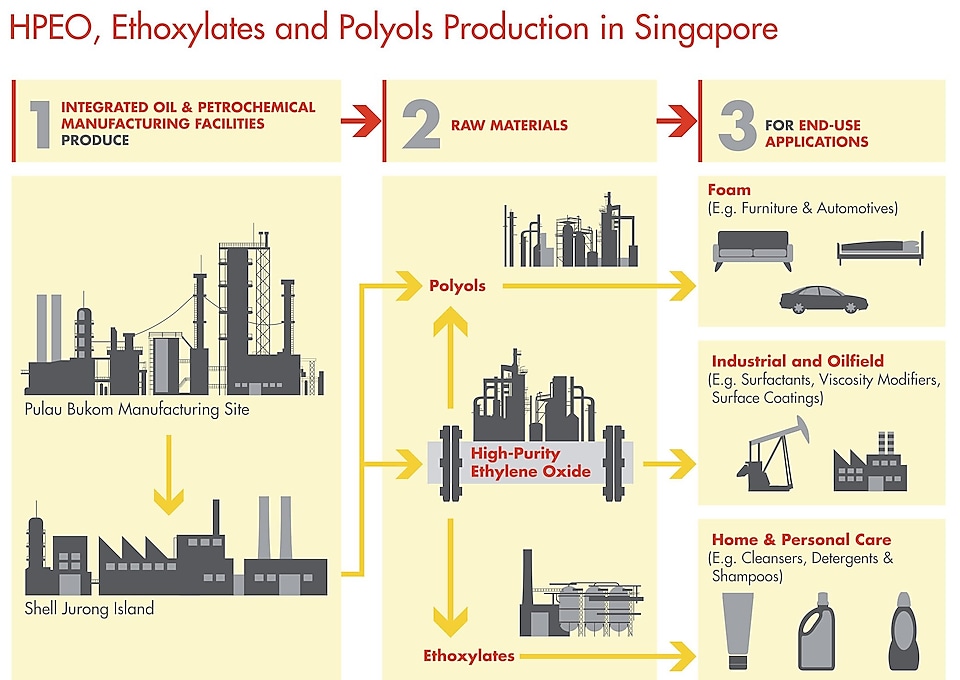 Since 2011, Shell has announced a number of projects that will grow its petrochemicals business in Singapore:
High-purity ethylene oxide (HPEO) and ethoxylation units
In 2015, Shell announced it has more than doubled the production of high-purity ethylene oxide (HPEO) and ethoxylates at its Jurong Island petrochemicals facility. The investments (Shell interest 100%) are expected to add 140,000 tonnes per annum (tpa) of high-purity ethylene oxide capacity and 140,000 tpa of ethoxylation capacity.
These boost Shell's chemicals footprint in Asia and enable us to derive maximum value from the integration of Shell's oil and chemical businesses. HPEO, derived from ethylene oxide (EO), is used in a wide range of household and industrial applications and form the key ingredients for a variety of products, such as detergents and personal care items like shampoo and body wash.
Read the press release: Shell lifts petrochemicals production with successful start-up of new Singapore plants
Polyols expansion project
Completed in April 2014, this project increases the site's existing polyols capacity by more than 100,000 tonnes per annum and adds new grades to Shell's product offer. The additional volume and grades will enable us to meet customer demand growth from key markets in Asia, particularly China.
Polyols are raw materials used in the manufacture of high-quality foams in furniture, bedding and the automotive industry. The new polyol grades include ethylene oxide-tipped grades for moulding and high-resilience foam applications.
Read the press release: Shell grows Singapore petrochemicals footprint with new investment