Environment
Shell provides energy responsibly, helping the world move towards a future in which the energy we use causes minimal impact on our planet. We recognise the importance of climate change, along with our role in helping people to achieve and maintain a good quality of life.
Our world needs energy to support and improve life for a growing population. Shell provides energy in a responsible way: we aim to limit any impact on the environment and support the transition towards a lower-carbon future.
Towards a lower-carbon world
Shell has long recognised the climate challenge and the role of energy in enabling a decent quality of life. We believe that, while technological developments will emerge, effective policy and cultural change is essential to drive low-carbon business and consumer choices and opportunities.
Shell supports the establishment of government-led carbon "pricing" mechanisms that deliver a meaningful cost on CO2 emissions, necessary to create transitions to lower-carbon power and fuel options.
Learn more about climate change and the energy transition
Discover what we are doing to achieve a cleaner energy future
Preventing spills
Oil or product spills damage the environment and endanger our employees and neighbouring communities. To avoid spills and leaks of hazardous substances, we work hard to make sure our facilities are well designed, safely operated, and appropriately inspected and maintained. We invest in the equipment and human expertise we need to deal with any spills that happen.
Recycling Plastics
As part of Shell's energy transition ambition, we aspire to transform our business here to become more sustainable and circular. We are working with the National Environment Agency on a joint feasibility study for the set-up of waste segregation facilities and plastic pyrolysis plants to recycle Singapore's plastic waste.
Fresh water
We take steps to manage our use of water and apply new approaches and technologies to reduce our use of fresh water. We comply with water regulations wherever we operate and also set our own mandatory water standards, which match best practice for our industry. 
We tailor our use of fresh water to local conditions, as water constraints tend to affect people at the local or regional level. In some cases, we use alternatives to fresh water in our operations; these include recycled water, processed sewage water and desalinated water.
Find out more about Shell and fresh water
Biodiversity
Our projects can affect local biodiversity and dependent communities. We apply stringent standards to help reduce any impacts our operations may have, particularly in critical habitats, which are areas that are rich in biodiversity or under protection.
We work with several conservation organisations, including Earthwatch, the International Union for Conservation of Nature, The Nature Conservancy, and Wetlands International. Our projects with biodiversity partners include working to restore natural habitats and ecosystems close to our operations.
Discover more about our work in biodiversity and our projects to protect the land and sea
Energy-water-food
The world's energy, water and food systems are strongly interconnected. In the coming decades growing demand will place these essential resources under more pressure. Climate change may also intensify stresses. Industries and other sectors will need to work together to address this complex relationship, called the energy-water-food nexus.
Shell has joined with academics, specialists from the energy, water and food industries, along with experts from governments and non-governmental organisations, to discuss how to help tackle this challenge. We continue, for instance, to use new approaches and advanced technologies aimed at reducing the amount of fresh water we need for our operations and boosting energy efficiency.
In Singapore, we look to minimise water use and increase water recycling.
At the Pulau Bukom Manufacturing Site,water is drawn from the sea surrounding the island through pipes and heated. Most of this sea water evaporates into low-pressure steam, leaving behind brine – concentrated salty water – which is safely returned to the sea. The steam is condensed into water and used in the refinery's boilers to generate high-pressure steam that powers the plant. 
Each day, 10,000 cubic metres of sea water – enough to fill four Olympic-size swimming pools – is processed. This saves piping in the equivalent quantity of fresh water.
The mono-ethylene glycol (MEG) plant at Shell Jurong Island, our petrochemicals complex in Singapore, uses Shell's proprietary OMEGA technology to make MEG – a raw material used in products such as polyester and anti-freeze. The OMEGA process uses 20% less steam and generates around 30% less waste water compared to conventional processes. We use advanced technology to help reduce fresh water use in our chemicals manufacturing.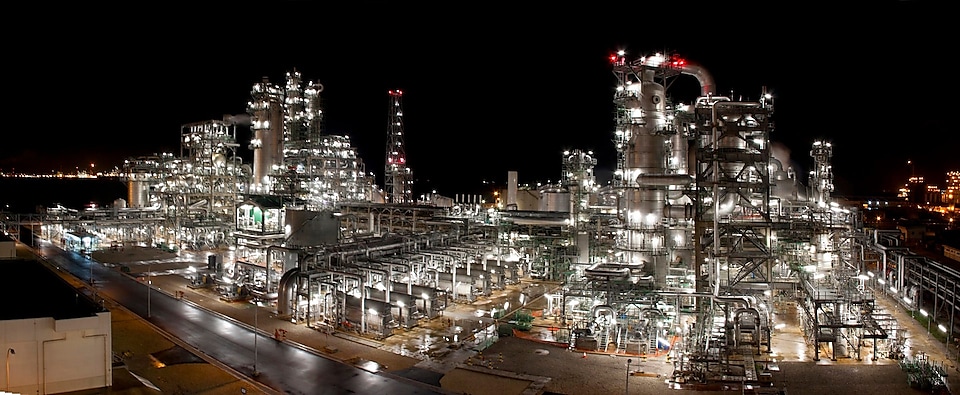 The mono-ethylene glycol plant uses Shell's proprietary OMEGA technology
More in sustainability
Sustainability at Shell means providing energy in a responsible manner, respecting people, their safety and the environment.
We aim to be a good neighbour wherever we work, by contributing to the well-being of nearby communities.