Spotlighting our women and girls in STEM
To commemorate the International Day of Women and Girls, we chat with some of our inspiring women and student participants to find out more about their personal STEM journeys and their ambitions to build a more sustainable future for all. From left: Vivian Fong, EO Technical Consultant, Shell Catalysts & Technologies; Gladys Choo, STEM Educator, Science Centre Board; Chaw Kay Khine, Temasek Polytechnic student; Polly Liu, Mechanical Engineer (Digitalisation), Shell
As the growth of our global population continues to accelerate, we are experiencing increased pressures for cleaner energy. Yet, these challenges are not insurmountable. What we need to address them are a complex and innovative thinking rooted in the fields of science, technology, engineering and mathematics (STEM), as well as a diverse community of enterprising individuals to push the boundaries of creative problem-solving.
This is why we introduced our social investment programmes – Shell NXplorers, Shell Eco-marathon (SEM) and Shell StartUp Engine (SSE) – to support social mobility and help our communities develop future-ready skills as the world undergoes energy transition.
This International Women's Day, as we continue to champion gender equality, we throw the spotlight on four women and student participants who #ChooseToChallenge the gender gap in STEM. Read how they each started their STEM journeys, go a step further by giving back through mentoring youths and start-ups, and share their views on the importance of female representation in STEM.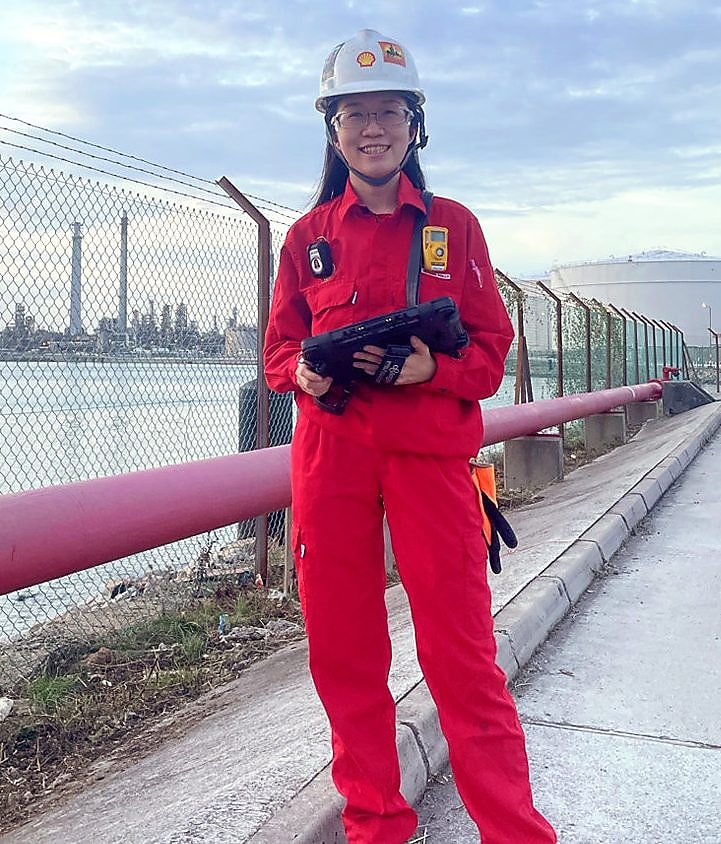 Tell us a little about yourself, and who or what inspired you to go into STEM?
Polly Liu, Mechanical Engineer (Digitalisation), Shell; Shell StartUp Engine mentor: At Shell, I focus on driving digitalisation at our Pulau Bukom manufacturing site. This includes implementing new initiatives, transforming existing work processes and promoting a digitally savvy workforce.
At the same time, I also volunteer as a mentor for SSE, providing guidance to energy start-ups to help them grow.
Ever since I was a kid, I have always been interested in taking on everyday challenges and resolving them using science and math, which led me to pay more attention to STEM subjects in school. I used to help my dad with simple car repairs, and this really spurred my interest to learn more about internal combustion engines and machine mechanics, so I decided to pursue a degree in mechanical engineering.
Gladys Choo, STEM Educator, Science Centre Board; Shell NXplorers programme partner: 
I liked science and math as a kid as well, and used to thoroughly enjoy school excursions to the Science Centre. Fast-forward to the present day – when a job opportunity came up at the Science Centre, I didn't hesitate to apply as I felt it would be really cool and meaningful to work in a place that holds so many positive memories and that sparked my curiosity for STEM in the first place.
Before joining Science Centre's STEM Inc team – where my focus is on the professional development of teachers – I also taught STEM subjects in a secondary school.
Vivian Fong, EO Technical Consultant, Shell Catalysts & Technologies; Shell NXplorers mentor: I have a background in chemical engineering, and I'm currently a technical service consultant in Shell's catalysts business.
For as long as I can remember, I was always drawn to building and making things, and I was also naturally good at math in school. I grew up laying train tracks around my home, building LEGO structures to house my stuffed animals, and experimenting with science kits. My dad is an engineer by trade too, which might have contributed to me being so comfortable exploring this field early on, as we often bonded over our shared interests.
Chaw Kay Khine, Temasek Polytechnic student; Shell Eco-marathon participant: Growing up, I spent a lot of time with my dad, who was also the one to spark my interest in technology. He'd do cool stuff with me like make a homemade torch or kaleidoscope. My dad didn't expect me to be an engineer, but he is definitely the greatest influence in my life! I'm enthusiastic to learn everything related to electrical, mechanical and computer controls because of him, and so I decided to take the mechatronics engineering course at Temasek Polytechnic.
As a female in STEM, do you face any particular challenges?
Gladys: During my time in school, we didn't have many opportunities to be exposed to STEM-related subjects and careers. I felt I wasn't able to make an informed decision of choosing a course apart from pure sciences and math, because I didn't believe I could go into an engineering course as a girl, for example. There weren't as many resources available or voices to empower girls to consider all the possibilities of the STEM industry. 
Polly: I also wasn't exposed to many female figures in the science and technology field when I was growing up; I only remember learning about Marie Curie in school. 
Vivian: For me personally, being a female engineer in a male-dominated industry did push me to step out of my comfort zone and speak up more to ensure my voice got heard at the table.
Why did you choose to participate in Shell's STEM programmes? What did you gain from them?
Chaw: I was fascinated when I saw a group of students displaying their eco-cars and robots during the Temasek Poly open house. I thought to myself, I want to be like them – harnessing my skills and applying them in real life. That's why I took the opportunity to gain more experience and showcase my skills by signing up as a driver for Shell Eco-Marathon 2019 and 2020.
SEM was an exciting and eye-opening experience because I was able to exchange ideas on how to innovate and design vehicles with like-minded teams from different countries. The competition enabled me to apply skills that I'd developed in class – from CAD designing and data analytics to research and time management – into real-world scenarios. Not to mention, participating in SEM also sharpened my teamwork skills, as my teammates and I brainstormed, strategised and solved problems together throughout the competition.
Vivian: I signed up to be an NXplorers mentor for two reasons. First, I really enjoy meeting and working with new people and gaining new perspectives, particularly on how to approach some of the complex issues we're facing in society today. Secondly, I wanted to have an impact on young people. I wanted to help sharpen their critical thinking and presentation skills, widen their scope of consideration, and provide them with the guidance and resources to succeed.

Through my mentoring experience, I believe I grew as a person as well, learning to listen more and explore alternative ideas and proposals.
Polly: I decided to sign up as a mentor for the Shell StartUp Engine programme as it offers an excellent opportunity for us to interact with and learn from energy start-ups, while driving digitalisation efforts and initiatives for the energy industry.
Of the numerous discussions we had during my SSE experience, I particularly enjoyed the sessions when mentors learnt together with the start-ups. Understanding the start-ups' challenges and different perspectives helps us to see how large energy companies can best interact with small but important players like these start-ups, especially when it comes to working together on clean energy solutions. This mutual learning helps to build a two-way relationship that can continue beyond the timeline of the programme.
Why do you think it's important to narrow the gender gap in STEM? What role do you see women and girls playing in helping to build a sustainable future?
Chaw: I find that it helps to maximise innovation and creativity. For example, girls or women in STEM are more likely to understand their fellow female users' needs when it comes to designing products or services for them. It's also key to identify and talk about successful women's stories, and create good workplace cultures that offer opportunities for females to excel.
Gladys: I agree that STEM and innovation go hand in hand. We need to tap on the young's curious nature to pique their interest in STEM early on. I also believe that empathy and compassion are qualities needed to solve many of the problems we face today, so women and men with these characteristics will certainly play an important role in helping to build a more sustainable future.
Vivian: Yes, having diversity at the table is crucial; not just having more women, but people with different backgrounds and viewpoints so a wider range of possibilities may be considered. 
Do you have any advice for a woman/girl interested to be in STEM? 
Gladys: I'd encourage young women to proactively reach out to the female teachers or STEM professionals in their lives to get a better understanding of the industry and the opportunities available in related fields. Doing so will help cultivate their interests in STEM, build up their confidence and pave the way for more of them to join the next generation of problem solvers and innovators.
Vivian: Don't be limited by traditional gender stereotypes! I once had an NXplorers participant come up to me and ask if I was a "real" engineer, because his sister wanted to be an engineer too, but was unsure if that was a "normal" career path for a girl. I assured him that I was, in fact, a real engineer, and I'll always remember the smile on his face as he walked away – I hope he conveyed that message to his sister, and it reminded me of the importance of having women role models to look up to.
YOU MAY ALSO LIKE
Do you have a great idea or innovative technology? We look for creative people, companies and organisations to partner with.
Learn about our business and people, and how we grew from a small shop in London nearly 200 years ago.
Sustainability at Shell is about delivering energy in a responsible way to meet the world's growing needs.
Doing business in a clear, open way is a commitment we work hard to keep, and we promote transparency where possible throughout our industry.
We work closely with communities to understand their concerns and identify how to address them.