Disinfectant / Sanitize Range
Shell Disinfectant Sanitising Wipes
Quick and convenient sanitising and disinfecting wipes kill 99.9% of germs without leaving a residue.
Perfect for use on automotive surfaces including leather, vinyl, glass, hard plastic, chrome and stainless steel and can be used in other high traffic areas including bathrooms, kitchens, doorknobs and office spaces.
Shell Aircon & Interior Refresher
Tested in labs to be 99.9% anti-bacterial. Freshen up the car air conditioning system in just 10 minutes. Ideal for dealing with car smells such as dogs, tobacco and mouldy upholstery in old vehicles.
Interior Cleaning
Shell Interior Cleaner
All-in-one product removes tough dirt, grime, grease and fingerprints from all plastic, vinyl, textile and rubber surfaces, maintaining the appearance.
Shell Microfibre Cloth
Ultra soft, non-abrasive microfiber cloths will not scratch paints, coats or other surfaces. Can be rinsed and re-used multiple times. Machine washable up to 40°C. Do not tumble dry.
How to Use:
Use Shell Microfiber cloth when using Shell Window Cleaner, Shell Dashboard Cleaner or Shell All Interior Cleaner.
Shell Dashboard Cleaning Wipes
Easy to store inside your vehicle to clean and protect interior vinyl, rubber and plastic surfaces.
Keep out of reach of children.
Store in a cool, dry place that is out of direct sunlight. Keep the re-sealable label sealed when not in use.
Shell Leather Cleaner
A ready-to-use fluid that cleans and protects automotive vinyl, leather and interior automotive surfaces. It refreshes and rejuvenates, preventing UV damage and cracking.
Shell Leather Wipes
Quick and convenient cleaning wipes to remove dirt and dust build-up inside your vehicle without residue.
Keep out of reach of children.
Store in a cool, dry place that is out of direct sunlight. Keep the re-sealable label sealed when not in use.
Glass Cleaning
Shell Summer Screenwash
A high quality and environmentally friendly waterbased fluid designed to provide excellent cleaning of grime and salt build-up. It also contains anti-beading properties which leave a streak-free finish for better visibility. Summer Screenwash will not damage chrome, lacquer, rubber and plastic parts and is safe for polycarbonate headlights. It is specially designed for summer and temperate climates.
Shell Window Cleaner
A ready-to-use fluid designed to clean automotive glass and chrome surfaces to a sparkling finish.
Contains
Cocodiethanolamide <1%
Blend of ionic and non-ionic surfactants <1%
Propan-2-ol <5%
Shell Glass Wipes
Quickly and effectively remove dirt, oil and grease from glass surfaces. Easy and convenient to store in your vehicle for rapid cleaning on the go.
Keep out of reach of children.
Store in a cool, dry place that is out of direct sunlight. Keep the re-sealable label sealed when not in use. Avoid conditions where the product may become frozen.
Exterior Cleaning
Shell Wheel & Alloy Cleaner
Ready-to-use for quick and easy removal of all road grime, tar and brake dust buildup from wheel hubs and caps
Shell Tyre Shine
High quality silicon-rich formula designed to give tyres a rich gloss and shine, as well as aiding to repel dirt and grime, keeping tyres looking like new longer.
Shell Speedwax
Ready-to-use spray on solution which gives an immediate smooth, high gloss, protective finish on automotive surfaces, and produces a powerful water beading effect.
Shell Insect & Tar Remover
Ready-to-use fluid designed to provide excellent cleaning performance for the removal of stubborn road grime, tar, insect and tree sap from vehicles.
Contains
2-Butoxyethanol <5%
Non-hazardous ingredients <5%
Shell Premium Car Shampoo
A high-foaming, extremely effective cleaner containing Carnauba Wax and Beeswax for an exceptional shine and protective finish. It is suitable for automotive and marine applications including cars, motorbikes, vans, trucks, buses and boats.
Car Maintenance
Shell Tyre Repair
Re-inflates and seals tyres to enable immediate driving in emergency situations where neither the tyre can be removed nor a spare is available.
Shell Battery Water 1L
Highly purified water suitable for use in applications requiring deionised, demineralised or distilled water, such as automotive batteries and radiators.
Shell Brake & Clutch Fluid Dot 4
A very high boiling point fluid suitable for brake systems and hydraulic clutch systems requiring FMVSS No 166 DOT 4 (ISO 4925 Class 4) fluid.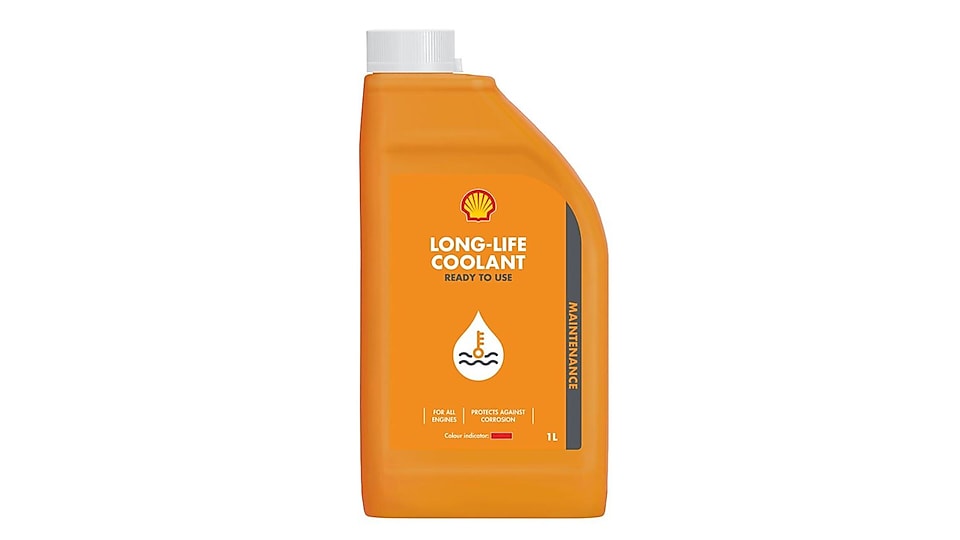 Shell Premium Coolant 1L
Ready-to-use premium quality -17°C freezepoint pre-diluted coolant suitable for all makes and models of gasoline and diesoline engines, and compatible with all major coolant products available in the market today.