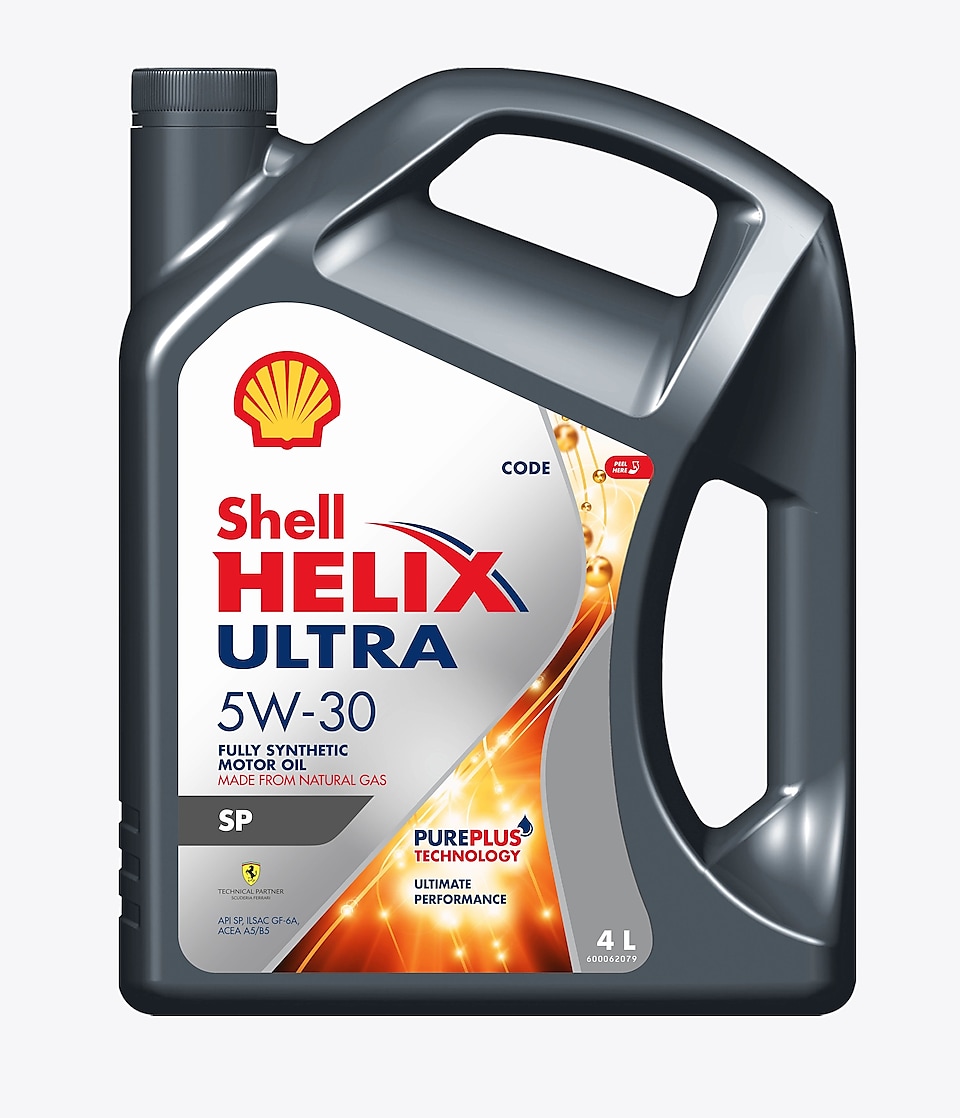 Fully synthetic motor oil – Shell's most advanced formulation for high-performance engines.
Today's vehicles need a motor oil that keeps pace with their changing demands and does more to improve performance and engine life. This is why Shell came up with an entirely new way to produce synthetic base oils, made from natural gas with our patented Shell PurePlus Technology.
Shell Helix Ultra is a range of top-tier motor oil that is formulated using the unique Shell PurePlus Technology, yielding a motor oil that actively helps keep engines clean. Active Cleansing Technology has always been at the heart of Shell Helix. Starting with the unique Shell PurePlus Technology allows the product to provide even higher levels of cleansing and protection. 
Shell Helix Ultra 5W-30 provides:
Keeps engine clean from sludge with Active Cleansing Technology 1
Helps to remove sludge left behind by inferior oils 2
Leaves pistons 65% cleaner than industry standard 3
Provides enhanced fuel economy, with corresponding reduction in emissions 4
Outstanding engine wear protection under toughest driving condition 5
Low evaporation formulation results in less frequent top-up 6
Exceptional low temperature performance, allowing quick engine warm-up 7
1. Based on Sequence VG sludge test using 5W-30
2. Based on severe sludge clean-up test
3. Average % achieved based on ILSAC GF-5 and Sequence IIIG piston deposit test using 5W-30
4. Based on Sequence VID fuel economy test compared with the industry reference oil
5. Based on Sequence IVA wear test using 5W-30
6. Compared with inferior oils and based on NOACK volatility test
7. Compared with higher viscosity oils
Recommended for applications:
API SP; ILSAC GF-6A
More in Shell engine oils and lubricants
Our revolutionary synthetic motor oil is made from natural gas, not crude like other synthetics and designed to give you the ultimate performance you need to Drive On.
Mineral oil is the fraction of naturally occurring crude oil with the right properties for lubricating engines. Combined with an optimised additive technology Shell Rimula mineral oil products provide robust engine oils for use in a range of vehicles. 
You might also like
The better you look after your vehicle the better it will look after you, and make every journey more enjoyable.