Shell Helix Ultra ECT C2/C3 0W-30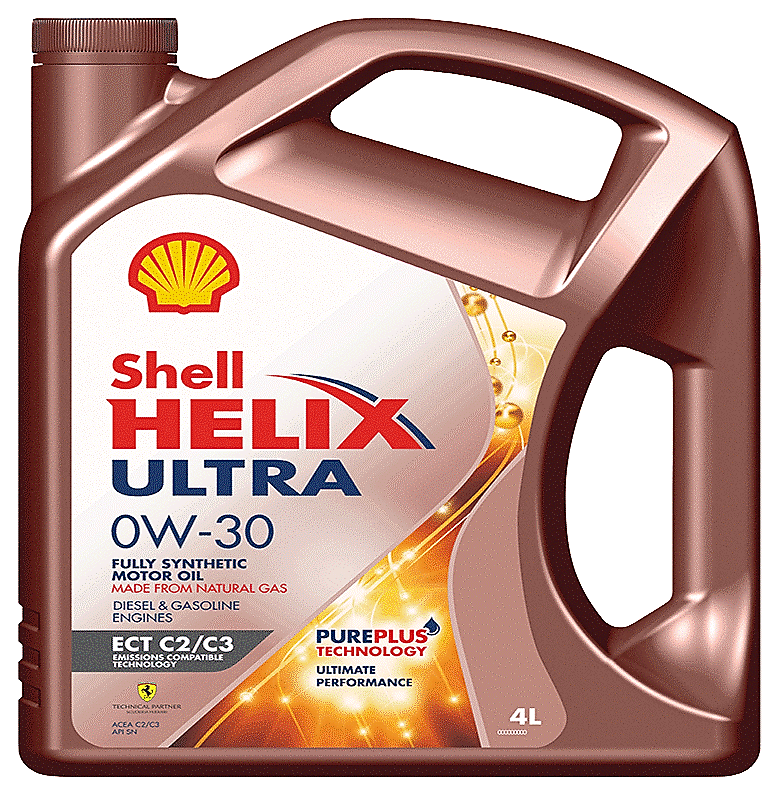 Fully synthetic motor oil – Shell's ultimate protection for vehicle emission systems.
Give your engine superior performance and protection with the advanced benefits of Shell Helix Ultra ECT C2/C3 0W-30 – our most advanced formulation to date. The latest in our high-quality range of fully synthetic motor oils, it's proven to deliver greater performance than ever before. Thanks to our Emissions Compatible Technology (ECT), Shell Helix Ultra ECT C2/C3 was developed to help keep the most modern diesel and gasoline engines free of dirt and build up.
In testing, our best-ever formulation achieved superior results – from excellent piston cleanliness to fuel efficiency and unsurpassed protection from wear and corrosion. Combining Shell PurePlus Technology and high-performance additives, Shell Helix Ultra ECT C2/C3 delivers even higher levels of cleansing and protection.
Shell Helix Ultra ECT C2/C3 0W-30 provides:
Enhance fuel economy of up to 2.6%1
up to 4x better wear protection2 than the latest industry standard
Unsurpassed corrosive wear protection up to 3x better than the latest industry standard3
45% cleaner pistons4 than the industry standard
Protects emission systems by helping to keep diesel particulate filters clean
Unsurpassed sludge protection – no other motor oil cleans your engine better5
1 Based on ACEA M 111 fuel economy results compared with an industry reference oil 
2 Based on Sequence IVA vs API SN using SAE 0W-30
3 Based on Sequence VIII corrosion test vs API SN using SAE 0W-30
4 Based on DV4TD piston deposit test using SAE 0W-30
5 Based on Sequence VG sludge test performance on SAE 0W-30
Specifications: Low Speed Pre-Ignition (LSPI), Turbocharged vehicles, API SN, ACEA C2/C3,
MB 229.52, 229.51, 229.31
VW 504.00/507.00,
Porsche C30
Fiat 9.55535-GS1, 9.55535-DS1
More in Shell engine oils and lubricants
Mineral oil is the fraction of naturally occurring crude oil with the right properties for lubricating engines. Combined with an optimised additive technology Shell Rimula mineral oil products provide robust engine oils for use in a range of vehicles. 
Shell's newest and most technologically-advanced formulation for the most demanding drivers. Shell Helix 0W formulation creates a self-healing anti-wear film which rejuvenates over time. Now your engine can perform better for longer than ever before.
You might also like
The better you look after your vehicle the better it will look after you, and make every journey more enjoyable.