Singapore teams win top accolades at Shell Eco-Marathon with Hydrogen-Powered Cars
May 16, 2019
Nanyang Technological University sets a new Shell Eco-marathon Asia record and becomes the first Singapore team to win the Drivers' World Championship Asia Qualifier.
Three teams from Singapore's tertiary institutions have won top awards at Shell Eco-marathon Asia 2019 held at the Sepang International Circuit, Selangor, Malaysia from 29 April to 2 May student teams at the Shell Eco-marathon were competing to see which vehicle could travel the furthest on one litre of fuel (and its equivalent). Shell Eco-marathon is a unique global programme for science, technology, engineering and maths (STEM) students to design and build ultra-energy-efficient cars, and then race them on the track in competition.
The Nanyang E Drive team from Nanyang Technological University (NTU) topped the UrbanConcept hydrogen category with their Nanyang Venture X (NV X) setting a record of 94km/m3. 
What was more impressive was that they eventually beat the top 3 teams from each fuel type of the UrbanConcept category - Hydrogen Fuel Cell, Internal Combustion Engine and Battery Electric, at the Drivers' World Championship (DWC) Asia qualifier. It was a race to see who crosses the finish line first without running out of their limited allocation of energy.
On the last lap, driver of the NV X, Colin Loh, 22, a NTU Renaissance Engineering Programme student, was at the crest of the slope when he noticed the leading Indonesian team slowing down and seized the opportunity.
"It was nerve-wracking as we were a close second for most of the race. Our secret was honestly just very good teamwork – the team, monitoring every aspect of the car, letting me know how much energy to use and where to use it. It was a very well-coordinated effort and that to me was the key to our success", reflected Mr Loh.
The top three teams from the Asia qualifier will face off against the best UrbanConcept teams from the Americas and Europe in the Drivers' World Championship to be held at Make the Future Live in London, UK, on July 5, 2019. The ultimate winning team will be rewarded with a visit to Scuderia Ferrari's headquarters in Maranello, Italy.
NTU bagged a total of US$6,000, winning US$3,000 each from topping the hydrogen UrbanConcept category and the Vehicle Design (UrbanConcept) Award.
In the hydrogen Prototype category, the teams from Temasek Polytechnic (TP) and Ngee Ann Polytechnic (NP) retained their titles from last year's event. TP ECO FLASH won US$3,000 for coming in first with an efficiency of 403km/m3, while runner-up, NP, received US$2,000 with an efficiency of 122.5km/ m3.
Team manager and driver for NP's The Black Order, Justin Wong, 24, from the Mechanical Engineering course, attributed their team's two-year consistent track record to innovation. His team built in an innovative double-wishbone suspension and a bamboo-aluminium chassis into their car, which was uncommon for Prototype vehicles. The usual practice is prioritising lightness over driver comfort.
"The ride experience in the cabin was extremely smooth. My vision from the cabin wasn't affected by the vibrations," Justin reflected, so he could focus on pushing the vehicle to its limits.
In addition to the winning teams, three other teams from NTU, Republic Polytechnic and NP passed technical and safety inspections to represent Singapore on the track in the battery electric UrbanConcept category.
For TP team manager, Wu Tingheng, 22, from the Mechatronics course, the journey of preparing and finally participating in the Shell Eco-marathon has been rewarding. "I didn't like engineering. However, once I got on the team, I deepened my expertise, levelled up and it has really boosted my interest in the subject," he said.
For photos and more information on Shell Eco-marathon Asia 2019, please visit: https://www.shell.com.sg/sustainability/communities/shell-in-the-community/stem-education/shell-eco-marathon.html
Nanyang Technological University's driver Colin Loh ready to go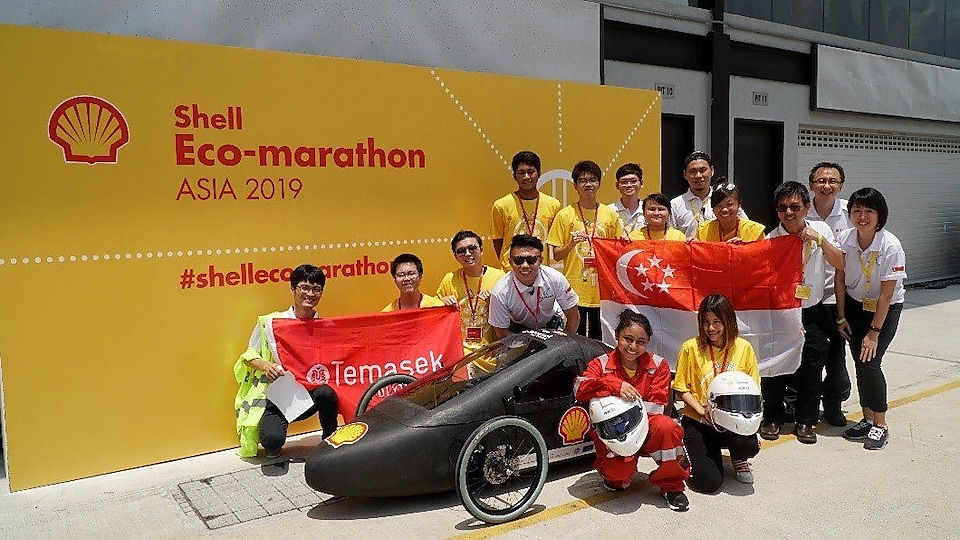 Temasek Polytechnic and their winning Hydrogen Car the H2 Challenger
Temasek Polytechnic receiving their award for winning the hydrogen Prototype category
Nanyang Technological University receiving their award for the first spot in the Drivers' World Championship Asia qualifier
Ngee Ann Polytechnic receiving their runner-up award for hydrogen Prototype category
About Shell Eco-marathon
Shell Eco-marathon can be traced back to 1939 at a Shell research laboratory in the United States as a friendly wager between scientists to see who could get the most miles per gallon from their vehicle. The winner of that contest barely achieved 50 mpg (21 km/l). These humble origins inspired what is now a global programme of competitions. In 1985 in France, Shell Eco-marathon as we know it today was born. In April 2007, Shell Eco-marathon Americas event was launched in the United States, and in 2010, the inaugural Shell Eco-marathon Asia was kicked off in Malaysia.
Malaysia hosted Shell Eco-marathon Asia from 2010 until 2013. In 2014, the event moved to a street circuit in Manila, Philippines, which hosted the event until 2016. Shell Eco-marathon Asia then moved to Singapore at the Make the Future Festival from 2017 to 2018. This 2019, in its 10th year, Shell Eco-marathon Asia returns to the Sepang International Circuit in Kuala Lumpur, Malaysia.
About Make the Future
Make the Future Live is a global programme bringing people and ideas into collaborate spaces, driving towards a lower-carbon energy future. The programme comes to Malaysia in 2019 bringing together participants from Asia Pacific and beyond.
At the heart of Make the Future Live is Shell Eco-marathon. Over its three-decade history the programme has seen thousands of high school and university students from across the world build ultra-energy-efficient vehicles, in a variety of designs, using a spectrum of energy types.
Every year brings new stories of human endeavour and technical excellence, as teams push the boundaries of what's possible. In 2019, Make the Future Live, Malaysia will host a regional leg of this global competition programme, Shell Eco-marathon Asia.
Enquiries:
Ca-Mie De Souza
General Manager, External Relations, Singapore
Ca-Mie.DeSouza@shell.com
Elaine Villanueva
Shell Spokesperson
Elaine.Villanueva@shell.com