Digital Twin
Digital Twin
In 2020, Bukom piloted a new Digital Twin technology. Upon achieving full completion in 2024, the Digital Twin will be a complete virtual representation of the physical elements on Pulau Bukom Manufacturing Site and be able to respond dynamically to conditions based on data from over 20 different technology platforms. The power of the Digital Twin lies in its visual, data and analytics capabilities. When fully implemented, live information of the plant operations can be provided to engineers via augmented reality (AR) and virtual reality (VR), thereby reducing the need to step into the plant. When troubleshooting an issue, various options can be tested in real-time on the virtual platform, before deciding on a solution. This improves operational efficiency, preventing downtime, reducing maintenance costs and allows effective real time collaboration between experts and operators. By 2025, all critical field operations at the site will be performed through tablets.
Storage Expansion
Storage Expansion
In June 2019, Shell increased storage capacity at its Bukom refinery in Singapore by building two large crude oil tanks that increase the site's storage capacity by nearly 1.3 million barrels. The project is part of Shell's ongoing effort to improve competitiveness by investing in storage and logistics at its core refineries. Increased storage capacity at Bukom gives Shell greater flexibility to optimise its oil trading activities, helping us to provide products to our customers more efficiently and profitably.
Shell built the storage tanks using an automated welding technology, which helped reduce welding time by 60% and lowered costs. A special aluminum alloy used in the tank roofs provides better protection against severe weather, such as lightning, and will help prevent common maintenance issues like rust and corrosion. Shell also used a new method to lift, move and install heavy materials when building the tanks, which helped keep employees safe during construction by reducing the need to work at heights and to carry out heavy lifting.
HDS Plant
Hydro Desulphurisation (HDS) Plant
Completed in April 2013, the plant equips Bukom with enough hydro-treating capability to desulphurise all the gasoil the refinery produces. It will also allow it to process more sour crudes from the Middle East and sustain maximum primary distillation feed needed for the Ethylene Cracker.
SCOT Unit
Shell Claus Off-Gas Treating (SCOT) Unit
Completed in May 2012, the SCOT unit significantly improves the site's sulphur recovery rate to more than 99.5%, well above the typical sulphur recovery rate. With very low SO2 emissions, it also enables Bukom to meet future reduced SO2 emission limits.
SEPC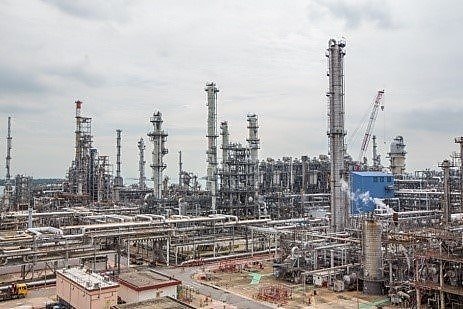 Shell Eastern Petrochemicals Complex (SEPC)
In May 2010, Shell completed the Shell Eastern Petrochemicals Complex (SEPC) project – its largest petrochemicals investment to date, creating Shell's largest, fully-integrated refinery and petrochemicals hub across Bukom and Jurong Islands. The investment reinforces Shell's intention to remain a leading player in the expanding Asian petrochemicals market.
The SEPC project included a new ethylene cracker complex and modifications to the Pulau Bukom refinery, and a world-scale mono-ethylene glycol (MEG) plant on Jurong Island.
Read more about the Shell Eastern Petrochemicals complex